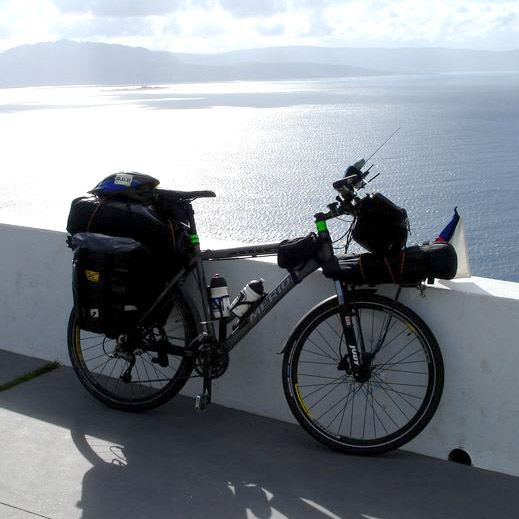 ..až oceán zastavil mé poslední cykloputování. Stál jsem obkročmo nad svým kolem při mysu Finisterre ve španělské Galícii. Oči sem mhouřil do té nekonečné modré dálky vědouce, že je konec. Dál už to nejde. No moudrý poutník na cestě do Santiága de Compostela mi pravil:.."znáš motto všech poutníků??,..tam kde jedna cesta končí, tam druhá cesta začíná".
A tak než se slunce utopilo v oceánu, já už věděl, že budu pokračovat. Ale pokračovat kam?? Kanada!! (..no vida. Až tak těžké to s výběrem destinace nebylo). Zná snad někdo romantičtější a zároveň drsnější krajinu?? Od dětství jsem touto zemí fascinován. Její rozloha, příroda a bohužel i vzdálenost nahánějí strach. Už samotné názvy jako Monitoba, Saskatchewan, Newfoundland či Youkon nahánějí husí kůži, stejně jako jména Gretzky či Bílý tesák :-). Ano, Kanada!!
Nebude to jednoduché, vím to. Moje cesta odstartuje na přelomu května a června roku 2010 a povede od západního pobřeží k východnímu, propojí Tichý oceán s Atlantikem. Do cesty se postaví Skalisté hory, záliv Svatého Vavřince či drsná krajina Newfoundlandu. Přes 8 000 km v sedle kola, den co den, po tři měsíce. Po většinu času mi bude nápomocna trans-kanadská silnice, můj stan a milované kolo. Jen já, vrozené instinkty a touha po poznání. A ptáte se, mám-li strach?? Ano, mám. Ale touha je silnější.
Chcete-li se stát součástí této dobrodružné výpravy, podpořte mě prosím nákupem kilometrů.