30.12.2009 | 17:14
Jupííí...
..ještě nedávno to vypadalo, že budu natrvalo kroužit po předměstí Vancouveru..A najednou - díky Vaší štědrosti můžu v poklidu překročit hranice Britské Kolumbie a zatím virtuálně vstoupit do státu Alberta. Díky moc za podporu..
22.12.2009 | 14:34
Konečně bylo vloženo číslo účtu..
..Důvodem opoždění byla chyba na elektronce B48 z firmy Katoda Olomouc.., a zároveň hledání té nejméňě zlodějské banky
. Číslo účtu najdete samosebou v sekci "Podpoř mě" - No pro jistotu,..třeba si ta čísla oblíbíte:-) - 670100-2207173047/6210. Nuže prosím,...setrvejte v stědrém postoji.Díky
15.12.2009 | 18:26
Focení titulní stránky..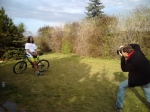 ..aneb, jak sem si umyl kolo z lenosti jen z jedné strany a pak se vše nafotilo - aniž bych si toho všimnul ze strany špinavé. Ale có!..Hlavně, že umytej sem byl já...i to číro sem si učesal..

27.11.2009 | 22:41
Konva...jsi můj bůh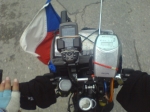 ..tvoje práce na stránkách je skoro u konce, neboli cesta skoro začíná. Jen ten nahóře ví, kolik času zbývá, než opět usednu za kokpit svého kola. Svět je prý nejkrásnější ze sedla koně...blbóóóst! Se mrkněte na fotku. A přidáte-li vůně a okolní pestro - nic se tomu nevyrovná. Tak šup šup...jedéééém